The only manufacturer of alumosilicate and glass microsphere in Russia *
Glass hollow microsphere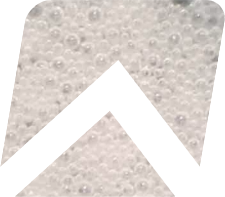 Glass hollow microsphere ForeSphere - high-tech universal filler, hollow microscopic particles (from 30 to 160 mcm) of ideal spherical shape. To produce glass microsphere we use glass of our own special composition. Our unique technique of production allows to adjust parameters of particles and make substance homogeneous.
Advantages of glass hollow microsphere ForeSphere
Perfect spherical shape and homogeneous substance
Cost-effectiveness. Spherical filler needs minimal amount of adhesive substance to moisturize side surface — condenser of any other shape will demand a larger consumption of tar, hardening agent, water etc.
Quality. Homogeneous spheres of ideal shape ensure minimal ratio of surface area to the occupied volume and tight stowage: packaging density coefficient is about 80% of theoretical value. Thus, glass microsphere ForeSphere has the smallest contraction strain than fillers with polyline shape and cheaper mineral condensers (foamed pearlite, vermiculite, expanded clay, aluminosilicate microsphere etc.).
Convenience. Spherical shape of the filler provides for good spreading of materials: they are easy to pass (including natural flow), convenient to apply on surfaces — manually with pallet knife, spray under pressure, pump etc. Homogeneity of particles diminishes toughness of material and allows to make surfaces ideally even.
Adjustable density and durability
With the help of glass microsphere ForeSphere you can fulfil a variety of tasks. Particles' diameter can be fixed depending on precise requests from client – starting from 30 up to 160 mcm, bulk density— from 0,16 to 0,78 g/cm3, real density— from 0,18 to 1,3 g/cm3, durability under hydrostatical pressure — from 20 to 1100 atm. It gives opportunity to be flexible in terms of material choice for various usages and we may even make a custom-designed specification to accomplish some of client's particular production tasks.
Chemically stable glass
Glass microsphere ForeSphere — resistant and predictable material. Specially designed glass doesn't impact chemical composition and reactive properties of blends, in which microspheres are used as fillers. Microsphere is ph-neutral and resistant to acids and alkalis. It provides its compatibility with the total majority of polymers.
Smoothness and hardness of glass surface ensures absences of absorption, storage stability and ability to create stable emulsions. Materials, in which glass microsphere ForeSphere serves as filler, acquire hardness and resistance to external exposure (washing, polishing etc.).
Low heat and sound conduction
Glass microsphere ForeSphere possesses good insulating properties (precise characteristics vary depending on particles' physical parameters). Sound- and heat-insulating materials, light and heat-reflecting coatings can be created using microspheres.
Transparency
Glass microsphere ForeSphere is transparent and has no saturated hue. That distinguished it from aluminosilicate and ceramic fillers that always have a saturated hue. These features widen the scope of applications for glass microsphere making it especially attractive for the production of paints, reflecting and reflective coatings, coating for interior use etc.
Opportunity to set the parameters for glass microspheres makes it uniquely universal in use. Figuratively speaking, glass microsphere is in demand everywhere from the depths of mines (cementing slurry for especially deep drill holes) to starry heights (space and aircraft industry).
Glass microsphere is especially popular in the production of lightweight plastics, plastic masses and plastic compounds (thermoplasts of injection moulding, sheet and bulk moulding compounds, plastics created by means of reaction injection moulding, transfer moulding etc.). Using glass microsphere lightweight high-durable composite materials are created. Without these materials modern high-tech engineering industry wouldn't exist — space industry, aircraft building, shipbuilding, car industry etc. Moreover, ubiquitous requirement to make materials lightweight and substitute metal parts with composite ones determines stable increase in demand for glass microsphere among the above-mentioned industries.
Glass microsphere is in demand both by public and industrial construction. Microsphere has become part of numerous modern materials applied in building: pore fillers, mastic compounds, sealant compounds, adhesive materials, heat- and sound-insulating coatings, roof coverings, paints (including special— light reflective etc.), corrosion-resistant and other protective cover coatings.
Glass microsphere is used in defence industry (for example in emulsion explosives), in medical industry (to create special coatings), chemical industry (in catalytical materials, anti-foaming agents and others), at manufacturing sports equipment, lightweight watercrafts etc.
Glass hollow microsphere ForeSphere is produced by FORES Company at our own capacities, plants are located in Sukholozhsky district in Sverdlovsk region.
Moicrosphere ForeSphere provides the same quality and range of available specifications as widespread foreign analogues and moreover, an average cost of glass microsphere ForeSphere is generally lower than comparable foreign counterparts have. It is important that all production sites of FORES Company are located in Russia, we use only national raw material and resources, all internal payments and billing is done in rubbles. Besides that it determines a better price, it allows to set prices for glass microsphere independently from drastic changes in exchange rates.
In our industrial activity FORES Company widely uses recycled materials. It enables us to keep costs low and reduce ecological damage to Sverdlovsk region.
FORES Company provides overall technical support to its clients:
- if no brand of microspheres ForeSphere presented in our basic range doesn't meet our client's requirements, at our company's expense we oblige to develop particular specification of glass microsphere to attain all industrial goals of the client (for orders over 20 tons);
- if necessary our specialists visit client's industrial sites and adjust equipment to make it compatible with a specific type of glass microsphere ForeSphere, including situations when client wishes to mix glass microsphere ForeSphere with fillers of other manufacturers' brands;
- our company may organise training for client's technical team at our production site.
FORES Company offers special terms to its clients:
- supplies of micro orders starting from 1 kg;
- individual pricelist and order of billing (discounts, delays etc.) depending on volumes and agreements for large orders (from 20 tons);
- urgent shipping, including large orders.
Moreover FORES makes shipment convenient for clients:
- freight to any means of transport, what's more providing client with any means of transport for the bulk;
- cargo escorting from company's warehouse to area of immediate use of microsphere;
- opportunity for customer pick up from company's warehouse.